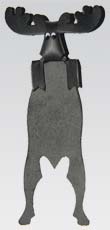 Each of our bookmarks is punched out and folded, glued and painted by hand in 7 steps. The final stage is embossing the back of the bookmark.
They are made from dyed through cowhide.
We develop and produce 100% in Germany
Our suitcase-labels are laser cut or stamped and further processed in Germany as well.
Your advantage:
You can reach us during normal offi ce hours and we develop and produce in a very short time.
You benefit from a short-term implementation of your ideas and our locality: No problems with customs, transport and foreign banks.
We speak the same language as you and live in the same legal system as you. And if sometime something should go wrong, we will take care of it unbureaucratically and look for a quick solution – we promise.
Wherever we can, we give our work to places of employment for the handicapped.
Promotion material

The card is created according to your specifications and the the back of the bookmark is embossed with a unique design (e.g. your company logo) - a personal touch that your customers will remember.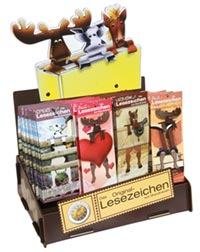 We can offer you an attractive display for marketing.
The display consists of four hooks with room for 50 bookmarks.
You only need 33 x 24 cm space next to your till.
Take a look at our selection

Back to overview